Shipping Time: What Will Imapact it and How To Deal With It
Time: Sep 21,2023 Author: SFC Source: www.sendfromchina.com
Shipping time—it's that ticking clock that separates the excitement of an online purchase from the joy of receiving it. Whether you're eagerly anticipating a birthday gift or impatiently waiting for essential supplies, understanding what impacts your shipping time can help manage expectations and reduce the anxiety of prolonged delivery.
In this article, we'll delve into the various factors that can influence how soon packages arrives at your customers' doorstep.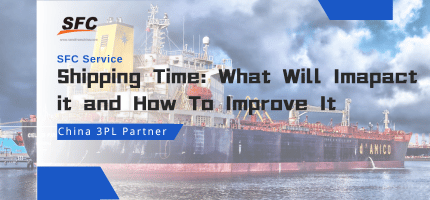 Related readings:
1.
How To Find A Reliable China 3PL Partner
2.
USPS Next Day Air Saver: All You Need To Know

3.
Dedicated Line Shipping: What It Is and How It Works
1. Mistakes that will impact your shipping time
1.1 Shipping method: the first milestone
Shipping time starts with the selection of your shipping method. Expedited services promise swift deliveries, but they come at a higher cost. On the other hand, standard shipping is more budget-friendly but may take longer. Consider your urgency and budget when making this crucial decision.
1.2 Customs and Import Regulations
Different countries have different customs and import regulations. If your package crosses international borders, customs and import regulations can introduce delays. Be prepared for potential inspections and paperwork, which may slow down the shipping process.
1.3 Holidays and Peak Seasons
Holidays and peak shopping seasons create a surge in shipping demand. Increased order volumes can lead to longer processing and delivery times. Plan ahead to avoid disappointment.
1.4 Lack of 3PL (Third-party Logistics)
Consider
3PL
(third-party logistics) as the maestros of shipping optimization. They excel in increasing efficiency and shortening delivery windows. Armed with experience and the necessary tools, they manage the complex layers of shipping, letting you zero in on your business growth.
1.5 Do not set realistic shipping expectations
Don't promise what you can't deliver and when will you finish it—literally. Setting unrealistic shipping timelines can be a recipe for disaster. Always account for possible delays and communicate that to the customer.
1.6 Unavailable to keep information
A significant misstep that can delay your shipping time is not maintaining clear and current information on your website. Consider your website as the digital face of your business; akin to a brick-and-mortar shop, it demands regular upkeep to ensure an uninterrupted customer journey.
1.7 Uninsured freight
The road to shipping is not always smooth. Products can face numerous obstacles en route, from rough treatment and theft to accidents or even acts of nature. Lacking the right insurance means you shoulder these risks, potentially leading to expensive hindrances and hold-ups.
2. How to improve shipping time
As a coin has two sides, here are some methods to improve shipping time:
Partner with an experienced 3PL partne
r
: Collaborating with a reliable 3PL company that can streamline
fulfillment
and shipment will reduce delays and improve customer satisfaction.
Provide more shipping options
: More shipping methods can cater to the different preferences and demands.
Update shipping status frequently
: Updating more shipping details and policies will make your customers more peaceful.
Offer reliable customer services
: Address questions without delay, provide shipping expertise to support teams, and harness automation to elevate the customer care experience.
3. SFC--Your Reliable 3PL Partner In China
1.
Over 17 years 3PL and order fulfillment experience
2.
DDP (Delivered Duty Paid) Service
3.
All-in-one tracking number
4.
API
5.
30 days of free storage
6.
No hidden fee
7.
Custom packaging
8.
Worldwide shipping solutions


4. Conclusion
Improving shipping time is essential for meeting customer expectations and maintaining a competitive edge in today's fast-paced world. By selecting the right carrier, optimizing processes, and staying proactive, you can reduce shipping times and provide a better experience for your customers. Remember that each step you take to enhance shipping efficiency contributes to happier customers and increased satisfaction.
5. FAQs
1. How can I expedite international shipping?
Expedite international shipping by choosing a reliable carrier experienced in international logistics, providing accurate documentation, and staying informed about customs requirements.
2. Are expedited shipping services worth the extra cost?
Expedited shipping services are worth it for time-sensitive shipments or premium products. The added cost is justified by faster delivery and improved customer satisfaction.
3. What technology can help streamline shipping processes?
Shipping software, automation tools, and address verification systems are valuable technologies for streamlining shipping processes and reducing shipping time.
4. How can I improve shipping time during peak seasons?
To improve shipping time during peak seasons, plan ahead, communicate cutoff dates clearly to customers, consider extending operating hours, and hire seasonal help if needed.
5. What's the most important factor in reducing shipping time?
Choosing the right shipping carrier is often the most crucial factor in reducing shipping time. A reliable carrier with fast delivery services can make a significant difference.

Post Views:
3368
Get a Custom China Fulfillment Solution with
FREE

Storage for

30 Days

Want to know about our services, fees or receive a custom quote?

Please fill out the form on the right and we will get back to you within a business day.

The more information you provide, the better our initial response will be.
Get a Custom China Fulfillment Solution with
FREE

Storage for

30 Days