SFC Fulfillment Model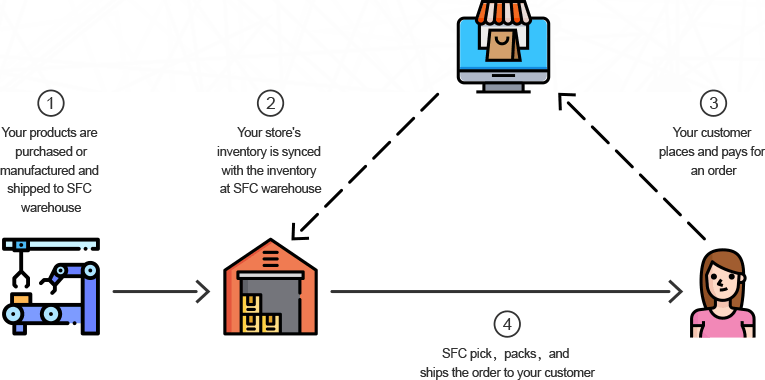 Quick Start
Step 1

Create Product

Define your products e.g. name, dimension, weight, image etc. in our database. Bulk data by CSV or API integration is acceptable.

Step 2

Activate Plan

Select a plan in your budget and activate it when you are almost ready to send your products to us. You can top-up your account via Paypal, Wire transfers, and bank transfers.

Step 3

Activate Products

Activate the products you have created in first step. It is a confirmation to use the SKU in our online fulfillment system. You can also use our system to generate the barcodes for free.

Step 4

Create ASN + Send to SFC

Create an ASN (Advanced Shipping Notice) to notify us of your incoming stocks. Please ensure that the ASN number is placed or attached to the cover of the carton and then dispatch it to our warehouses.

Step 5

Create Order

You can manually create a new order in our system whenever you close a sale. You have the option to batch the upload orders through a csv file. Advanced users can also choose to integrate with our system via the Web Service APIs

Step 6

Submit Order

After reviewing the order, you have to submit it and we will handle the rest! We will pick-and-pack and ship directly to your customer.