The Most Popular Products and Niches on Aliexpress to Dropship in 2023
Time: Sep 19,2023 Author: SFC Source: www.sendfromchina.com
Dropshipping
has become a popular business model, especially for those looking to start an online business with minimal upfront investment. One of the key aspects of running a successful dropshipping business is choosing the right products to sell.
AliExpress has been a go-to platform for dropshippers due to its wide range of products and competitive prices. In this blog post, we'll explore the most popular products on AliExpress for dropshipping in 2023.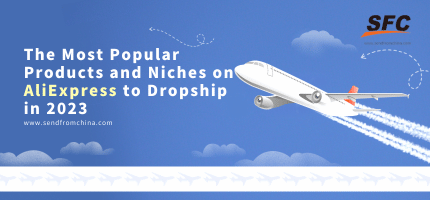 Related readings:
1.
Where Does Shein Ship From?
2.
Where Does Temu Ship From?
3.
Why Is Aliexpress So Cheap?

1. How to find best-selling products on Aliexpress
Discovering top-selling items on AliExpress can be done in various ways. Some methods are straightforward, like consulting a list provided by the platform, while others may demand a bit more legwork. Let's delve into some of the most reliable techniques for identifying best-selling products.
Super Deals
There is one section on the homepage where you can find the most popular products: Super Deal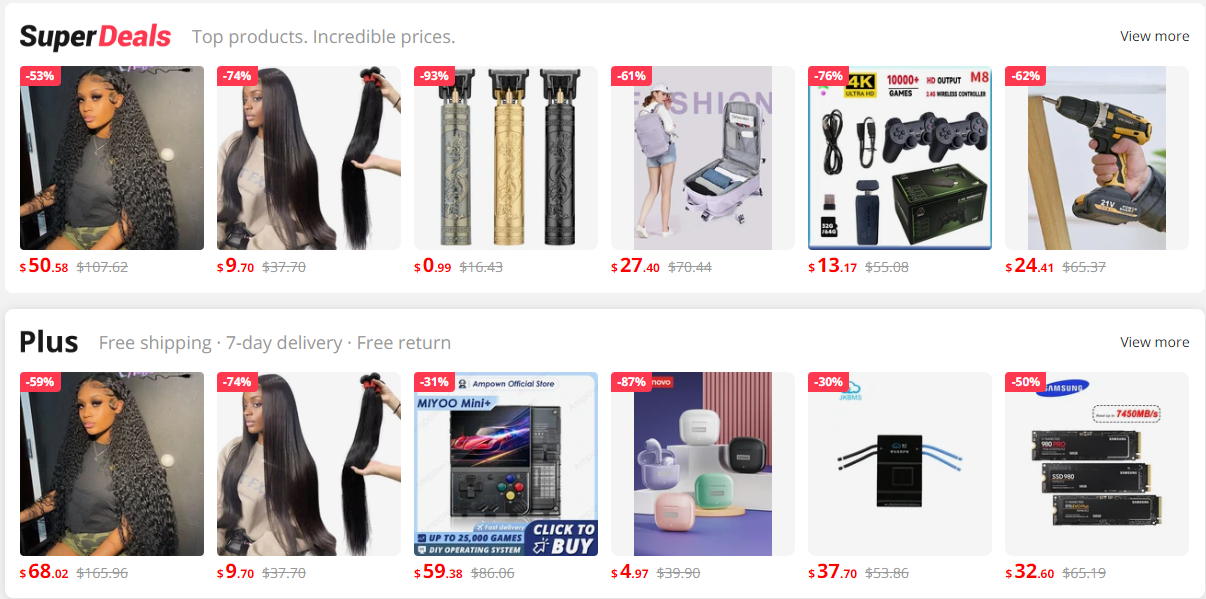 The Super Deal section on the AliExpress homepage has the six top-performing categories on Aliexpress. They are not only determined by sales, but rather a complex of orders, reviews, products added to wishlists, and other factors. Super Deals are updated weekly.
Find the category and sort by order
The second method to find the best-selling products is to search within the category sorted by orders.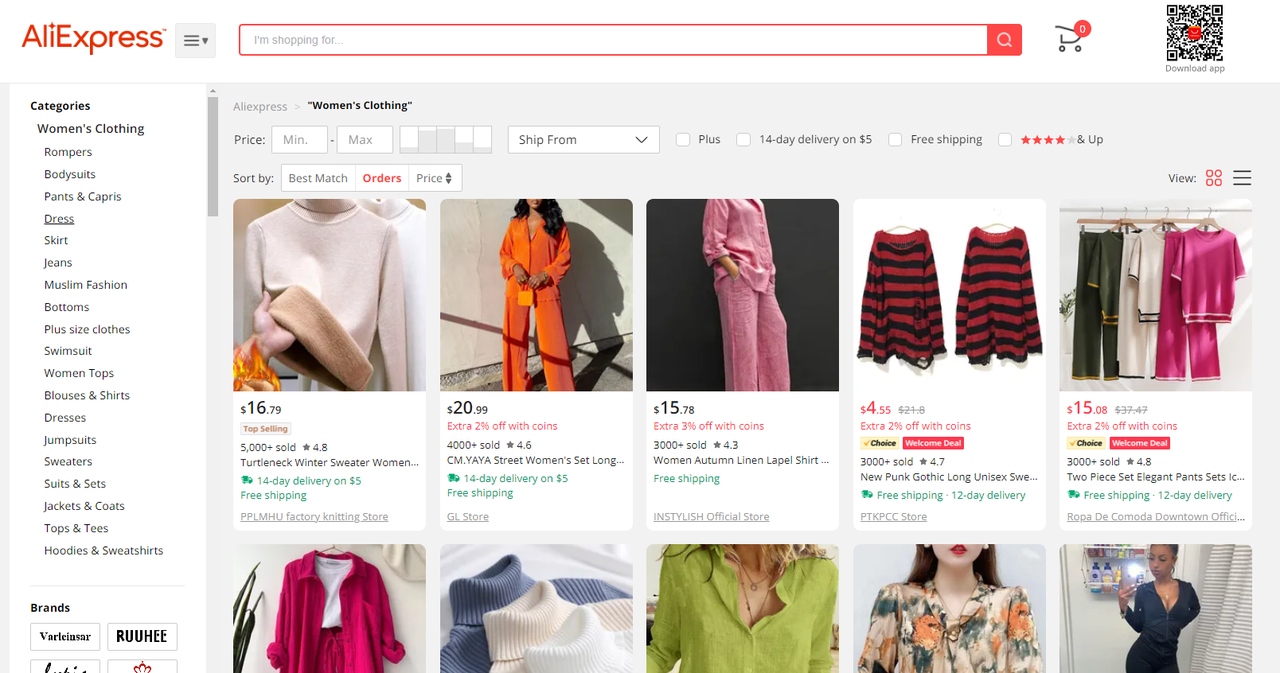 2. What types of dropshipping products are more popular
2.1 Women's Fashion
It's hard to deny that women's fascination with shopping and fashion places this category at the pinnacle of AliExpress niche products. For sellers eyeing robust sales in 2023, this offers a goldmine. The best part? The niche is broad enough to encompass various sub-categories, be it evening wear or workout gear, allowing sellers greater flexibility. With the fashion landscape in constant flux, savvy sellers who stay current can anticipate extra income opportunities.
2.2 Men's Fashion
Given the increasing popularity of women's fashion, it's essential to include men's fashion as well. Selling men's fashion is unquestionably a top niche product on AliExpress for 2023.
2.3 Phones & Accessories
With the rapid development of smartphones and telecommunication, phones and accessories have been one of the best-selling dropshipping products in 2023.
2.4 Health & Wellness Products
Health and wellness items consistently occupy the number one spot on our list for Aliexpress dropshipping, due to multiple significant reasons. The growing awareness around health and wellness among consumers today is driving this demand; people are increasingly scrutinizing product ingredients before making a purchase.
Furthermore, the cost-effectiveness and wide array of options available on Alibaba create a profitable landscape for dropshipping entrepreneurs, who can choose from everything from nutritious food to exercise gear.
2.5 Home Deco and Improvement
Aliexpress customers frequently opt for our home decor and improvement selections. The growing trend to enhance living spaces both visually and in terms of comfort makes these products particularly desirable.
2.6 Beauty & Makeup
The beauty industry knows no gender; both men and women are equally keen on looking their best and are selective about their beauty purchases. Whether it's cosmetics, makeup or skincare, the options are virtually limitless, and serviced by an extensive network of global suppliers.
2.7 Fitness and sports products
It is indisputable that fitness and sports equipment are consistently among the top-performing products in the realm of Aliexpress dropshipping. These items experience strong demand, aligning perfectly with the growing emphasis on health and wellness. As previously discussed regarding the increasing awareness of maintaining an active lifestyle, fitness and sports equipment play a pivotal role in achieving personal fitness goals.
2.8 Toys, Kid & Babycare products
There is always a steady demand for toys, kids and babycare products, making them a viable option for your dropshipping store. Parents are dedicated to ensuring the well-being and comfort of their little ones.
2.9 Outdoor and Camping products
The outdoor and camping gear niche is thriving among Aliexpress dropshippers. These items cater to the expanding community of outdoor enthusiasts in search of adventure and exploration. Furthermore, there's a growing desire among people to reconnect with nature and participate in outdoor activities, necessitating the search for top-quality hiking and camping equipment.
2.10 Pets Supplies and Accessories
Pet owners and animal enthusiasts worldwide are dedicated to providing the best care for their beloved furry friends. With a growing preference for online shopping, pet supplies and accessories have secured a spot on Aliexpress's list of top-selling products for 2023.
3. Choosing between dropshipping niches and trends
When it comes to choosing between a niche or trends for dropshipping business, you have to take your business goals, target market, and audience into consideration.
Specializing in niche markets provides the benefit of meeting unique consumer demands, enabling you to become an expert in the field and cultivate a devoted clientele. Fewer competitors make it easier to carve out your own brand identity and distinct selling points.
Conversely, chasing after trending products offers a fast track to immediate sales and heightened brand awareness. These hot items often ride the wave of cultural trends, social media buzz, or seasonal occurrences, yet their popularity could be fleeting and the competition fierce.
4. The most popular dropshipping niches online
Now you know how important it is to balance between dropshipping niches and trends. Here are the most popular dropshipping niches in 2023:
Eco-friendly and sustainable products
The increasing environmental consciousness among consumers can't be overlooked. As a dropshipping entrepreneur, it's a wise move to focus on green and sustainable products for your digital storefront. According to Forbes, customers ranging from Baby Boomers to Gen Z are more than happy to pay extra for eco-conscious items.
Additionally, the market for these products is unlikely to shrink; environmental well-being is on the radar for people of all ages. As a dropshipper, this allows you to connect with a broad spectrum of buyers keen on eco-friendly products.
When it comes to product selection, your options include anything from reusable goods to plastic-free items and eco-smart kitchenware.
Smart home appliances and technology
The research and development of smart home technology has taken a large part of the financial budget for some technology businesses.
In today's tech-driven society, many of us rely on gadgets for various aspects of our lives. This creates a lucrative opportunity for dropshippers to specialize in smart home devices and similar products. According to Statista, the Smart Home market is projected to balloon to an impressive $222.90 billion by 2027. Plus, your target audience primarily consists of tech enthusiasts and gadget aficionados, who are always keen to explore new purchases.
DIY craft tools and kits
Dropshipping DIY craft tools and kits taps into the creative spirit in people, making it an exceptional niche. Whether it's for self-expression or to create tailor-made gifts, the sector is rich in a wide array of materials like paints, brushes, yarn, and beads, to suit every crafting style and project.
FAQs
1. How did you determine which products are the most popular for dropshipping in 2023?
The list of popular products is based on trends observed in previous years, as well as emerging trends in various categories. While the list is not exhaustive, it provides a good starting point for those interested in dropshipping.
2. Are these products guaranteed to be profitable?
While these products are popular and have a high demand, profitability depends on various factors such as your marketing strategy, customer base, and pricing. It's essential to do your own research and perhaps even test the market before fully investing in a product.
3. How can I check the quality of products on AliExpress?
Before choosing a product to dropship, it's advisable to order a sample for yourself to assess its quality. Additionally, always check the reviews and ratings on AliExpress. Products with high ratings and positive reviews are generally of good quality.
4. What should I consider regarding shipping times?
Shipping times can vary depending on the location of your customers and where the product is being shipped from. Some AliExpress sellers have
warehouses
in other countries, which can reduce shipping times. Always check the estimated delivery times and consider offering tracking to improve customer experience.
5. Can I brand these products as my own?
Many of the products listed are unbranded, giving you the flexibility to create your own brand. However, make sure to check with the supplier to see if they offer custom branding options.

Post Views:
400
Get a Custom China Fulfillment Solution with
FREE

Storage for

30 Days

Want to know about our services, fees or receive a custom quote?

Please fill out the form on the right and we will get back to you within a business day.

The more information you provide, the better our initial response will be.
Get a Custom China Fulfillment Solution with
FREE

Storage for

30 Days