Where Does Shein Ship From
Time: Apr 27,2023 Author: SFC Source: www.sendfromchina.com
As the number of people shopping online continues to grow, businesses are increasingly focused on providing fast and affordable shipping to keep up with customer demands. SHEIN, the Chinese e-commerce giant, has positioned itself as a leader in the industry by optimizing its shipping methods and taking advantage of China's booming logistics infrastructure. Starting from a small office in Nanjing, SHEIN has expanded rapidly to become one of the largest online shopping platforms in the world, serving customers in over 230 countries and regions.
SHEIN prides itself on its unwavering dedication to customer satisfaction, reflected in its exceptional shopping experience featuring unparalleled pricing, speedy shipping options, and dependable customer service. Its attractive discounts, including free worldwide delivery, coupled with 24/7 live streaming of products, have elevated customers' online shopping experience to new levels of convenience. This commitment to customer service and innovation has helped SHEIN establish one of the world's most efficient e-commerce platforms, reaching over 700 million users every day.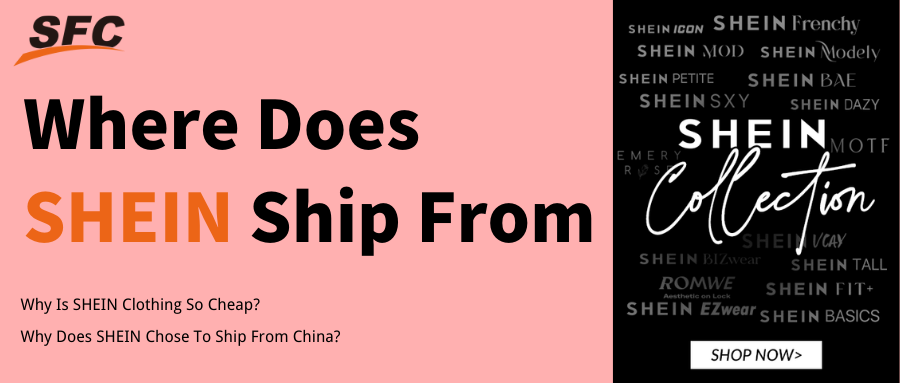 In this blog post, we'll explore where Shein ships from, their shipping methods, and the reasons behind their low prices.
I. Where does Shein ship from?
Shein currently ships from its China warehouses. However, the company also has several international warehouses strategically located in the USA, Europe, Asia, and the far east, which are provided by their third-party logistics (3PL) order fulfillment partner. It's important to note that Shein does not manufacture the clothes it sells. Instead, the company sources its products from various suppliers and designers around the world. With this global network, Shein is able to provide fast and reliable shipping to customers in over 200 countries.
Shein aims to provide faster and more reliable delivery times by first attempting to fulfill orders from local warehouses, based on the customer's location.
For instance, European customers are likely to have their orders fulfilled from Shein's European-based warehouses. This strategy helps to reduce delivery times and ensure that orders are delivered within the estimated timeframe.
However, if the requested item is not available in the local warehouse, it will be shipped from China, which can increase delivery times. To ensure that local warehouses are well-stocked, Shein regularly dispatches trending items in bulk from China. This consolidation process enables Shein to offer affordable clothing with generally good delivery times, which has contributed significantly to the success of the company.
II. Shein's shipping methods
Shein offers two primary shipping methods: standard shipping and express shipping. Standard shipping usually takes longer to arrive, but it is free for orders over a certain amount. Express shipping is faster and is available for an additional fee. The estimated delivery times for both methods depend on the exact destination country and can range from a few days to a few weeks. Shein also provides tracking information for all orders as well as their user-friendly returns policy, allowing customers to monitor the status of their shipments with their user-friendly returns policy.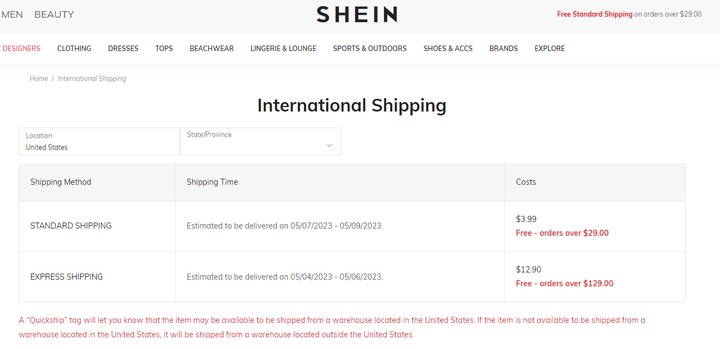 III. Why Is Shein Clothing So Cheap
1. One of the main reasons why Shein clothing is so affordable is that the company outsources its apparel manufacturing to domestic or foreign companies where labor and raw materials are generally less expensive. This means that many of Shein's newer products come at very low prices and are produced by wholesale manufacturers in other countries. Despite this, Shein has not compromised on important aspects such as employment conditions, workplace environment, performance measures, and quality criteria, even when outsourcing to other countries. This commitment to maintaining high standards while keeping costs low has contributed to Shein's success in the online retail industry.
2. As we mentioned above, another reason why Shein has a sharp advantage in price is that they always have the most suitable and reliable order fulfillment and international logistics solutions from their 3PL order fulfillment center. The company works with 3PL providers who specialize in inventory management, and international shipping, allowing them to manage their inventory and shipping operations more efficiently. By optimizing their supply chain and reducing the costs associated with shipping and handling, Shein is able to keep their prices low while maintaining a high level of service. This gives them a competitive edge over other retailers who may struggle with logistics and fulfillment, resulting in higher prices for their customers.
IV. Why Does Shein Ship From China
As the biggest developing country in the world, China has sufficient and cheapest raw material as well as labor force market which are the borned advantages of Shein to control its product and logistic cost. Here are 5 main benefits or reasons why does Shein ship from China:
1. Closer to manufacturers
One of the advantages of shipping from China is the close access to manufacturing centers, which SHEIN takes advantage of. This direct access enables SHEIN to ensure that its products have consistent quality and feature the latest designs. It also helps SHEIN maintain competitive prices, as Chinese suppliers usually offer more favourable rates than foreign companies or warehouses. As a result, SHEIN's customers can be confident they are getting the best value for their money when shopping on their platform.
2. Advanced logistic system
By shipping directly from China, SHEIN can offer customers quick and efficient delivery of their orders. Chinese suppliers use advanced logistics systems that enable speedy delivery, ensuring that products arrive in better condition and within a shorter time frame compared to shipping from a warehouse located elsewhere. Additionally, by having all their services, including customer service and inventory management, in one location, SHEIN benefits from a streamlined operation, reducing delays and providing customers with an overall improved shopping experience.
3. Better Inventory Management
By shipping goods from China, companies can benefit from just-in-time
inventory management
. This enables them to order necessary supplies as needed, without having to store a large amount of inventory on hand. As a result, companies can lower inventory costs and minimize the risk of overstocking. With the help of this process, businesses can efficiently manage their inventory and reduce unnecessary expenses, thereby improving their overall profitability.
4. Fast lead time
Companies can achieve fast lead times by sourcing goods from China which results in quicker delivery. This is a crucial consideration for businesses looking for a fast delivery solution to prevent costly stockouts and backorders. Therefore, businesses should consider sourcing their goods from China to ensure fast and efficient delivery and this is also one of the reasons why SHEIN chose to ship from China.
5. Extensive and comprehensive delivery network
Thanks to its China fulfilment center, SHEIN has built an extensive carrier network to ensure the timely and safe delivery of all packages. They also offer express shipping options that allow for same-day delivery within China, as well as insured shipping with automatic customs clearance paperwork. These measures help reduce both shipping costs and transit time, resulting in quick and affordable delivery to customers. With SHEIN's extensive carrier network, customers can rest assured that their orders will arrive on time and in excellent condition.
V. Faster Shipping from China with SFC: Your reliable order fulfilment partner for online sellers
Order fulfillment
plays an important role in ecommerce. How to ship products to customers' doors always puzzles online sellers around the world. Thanks to the above-mentioned benefits, shipping from China is still a cost and time-saving solution for e-commerce businesses worldwide. SFC streamlines the shipping process for online sellers with quality service and custom order fulfillment and logistics options. Their range of price points allows customers to choose the level of control they want over their shipping process, while powerful tracking tools ensure they can make informed decisions about their shipments. By partnering with SFC, sellers can ship their products to any destination in the world with confidence and ease.
As a leading tech-powered order fulfillment company in China,
SFC
owns Shenzhen Fulfillment Center and Yiwu Fulfilment Center, which utilize smart software to provide simple and reliable China warehouse fulfillment and logistics services for ecommerce businesses, dropshipping businesses and crowdfunding projects.


Post Views:
5880
Copyright statement: The copyright of this article belongs to the original author. Please indicate the source for reprinting.
Previous Post
Next Post
Get a Custom China Fulfillment Solution with
FREE

Storage for

30 Days

Want to know about our services, fees or receive a custom quote?

Please fill out the form on the right and we will get back to you within a business day.

The more information you provide, the better our initial response will be.
Get a Custom China Fulfillment Solution with
FREE

Storage for

30 Days