Drop shipping vs Order Fulfillment: Which One Is More Suitable?
Time: Jun 02,2022 Author: SFC Source: www.sendfromchina.com
Content:



I. Why Is The Debate "Drop shipping vs Order F
ulfillment" Become Hot?
II. What Are The Differences Between Drop shipping and Order Fulfillment?
1. The Definition of Drop shipping and Order Fulfillment.
1.1 What Is drop shipping?
1.2 What Is order fulfillment?
2. Key Differences Between Drop shipping and Order Fulfillment.
III. Which One Is More Suitable For Your Business?
IV. How to Choose Good Drop shipping /Order Fulfillment Companies?
1. Good dropshipping fulfillment companies shall:
2. Good order fulfillment companies shall:
As a cross-border e-commerce seller, your main goal is to delight your customers and get more profits, so you must have attached much importance to your fulfillment model in e commerce since it impacts the ultimate success of your e-commerce business.
As for ecommerce fulfillment models, dropshipping and order fulfillment rank as the top two. Both have unique advantages, so e-commerce sellers are usually confused about how to choose and argue about which one is better or more suitable.
SFC believes: No investigation, no say (no right to speak), so we did adequate research before we tell you drop shipping vs order fulfillment: which one is more suitable. Please be patient when reading this article and find the answer to your confusion.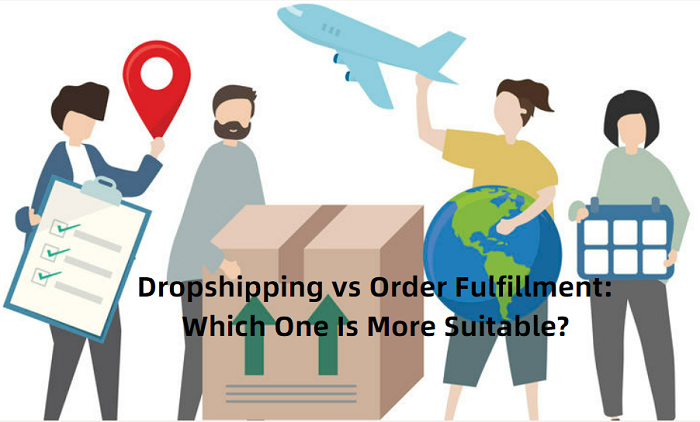 You are certain to compare the cons and pros of dropshipping and order fulfillment before making the final decision. Here SFC took first to list the differences and recommendations of these two ecommerce fulfillment models for your reference according to our industry experience and research results.


To simplify unnecessary process steps and improve the cost efficiency of small ecommerce businesses, there arises a fulfillment model for small business -- Dropshipping.
Dropshipping/Drop shipping, also called consumer direct fulfillment, is an e-commerce retail model that allows stores to sell products without keeping any physical inventory. In this model, the retailer sells the product to the customer, then passes on the sales order to a third-party supplier, who then ships the order directly to the customer on behalf of the retailer. However, the shipment looks like it comes from the buying organization.


Though dropshipping is simple and cheaper, it can not help the growth of your store and brand. So people also choose order fulfillment as their ecommerce fulfillment model.
Order fulfillment, also known as supply chain fulfillment or inventory fulfillment, is a part of a ecommerce fulfillment model in which the retailer outsources the resource-intensive tasks involved in order fulfillment to third-party companies. The entire order fulfillment process steps typically involves receiving goods, short-term storage in a warehouse in the distribution center, customer order processing (picking and packaging) and shipping and logistics. The ultimate goal for the order fulfillment process steps is to accurately deliver the products to the consumers on time.


2.1.1 Dropshipping process step by step
Step 1: Add products to your online store
Step 2: Customer purchase from your online store
Step 3: You buy from suppliers the same products as customers placed on your store
Step 4: The supplier packages and ships the product directly to your customer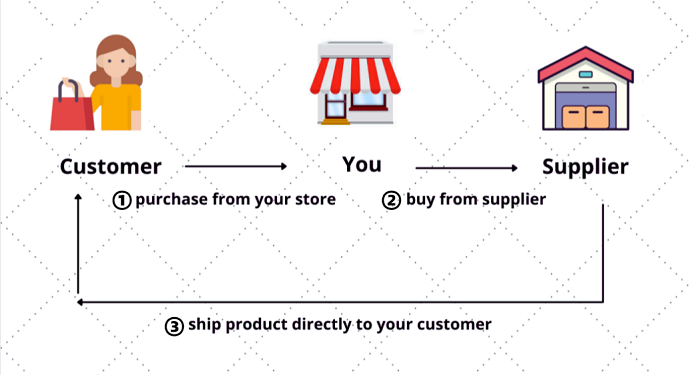 2.1.2 Order fulfillment process steps
Step 1: You products are purchased or manufactured and shipped to SFC warehouse.
Step 2: Your store's inventory is synced with the inventory at SFC warehouse.
Step 3: Your customer places an pays for an order
Step 4: SFC picks, packs and ships the order to your customer.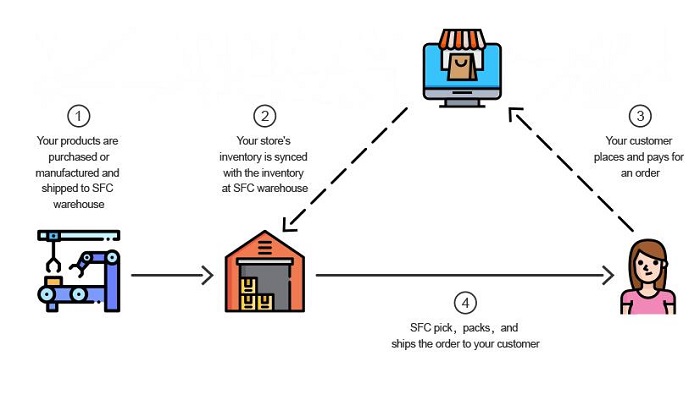 From drop shipping vs order fulfillment process, we know that the products of retailers operating through dropshippers are provided and delivered by their suppliers, and they never possess or own the products they sell. Retailers just need to market their stores to get orders and find suitable suppliers to fulfill the orders, so they don't need inventory.
However, inventory is very important in order fulfillment process steps. Merchants buy products in bulk from their manufacturers or wholesalers, so they need a warehouse to store their products. To make simplified the whole process and shorter the order fulfillment time, they usually work with one-stop order fulfillment companies to help them store, pick pack, manage and ship the products.


As the whole ecommerce fulfillment process is different, so their partners are different.
In the dropshipping model, retailers work with suppliers, and they are in a co-exist relationship. Retailers are responsible for marketing their store, serving their customers, and expanding the sales channels, and their suppliers fulfill the rest processes of manufacturing, wholesaling, and fulfillment. Suppliers pay much attention to profits, and they usually choose cheaper logistics solution to fill your orders, so your delivery time and delivery rate will not be guaranteed.
In the order fulfillment model, merchants work with order fulfillment companies, and they maintain a long-term business partnership. Merchants hire order fulfillment companies to manage their orders easier by integrating with them intelligent systems and ships them by choosing custom logistics solutions. As order fulfillment centers are specialized in order fulfillment, they have abilities to provide professional and superior order fulfillment services. Order fulfillment companies are generally eager to do help you do quality inspection, so you can guarantee the product quality and improve customers' satisfaction. In addition, they are continuously improving their services to improve the efficiency and retain their customers.


Dropshipping requires minimal capital, because you don't have to pay for warehousing and shipping fees, nor do you have to pay salaries for staff who handle the pick and pack process. This model relies heavily on paid advertising, such as Google Ads and Facebook Ads. You really need to do a great job on SEO and optimize your ad campaigns to minimize your ad spend.
The order fulfillment model has a high requirement for capital in the early stage, merchants need to purchase products in advance before their store generate orders, and pay for warehousing fees and order management fees. Although the cost is higher than the dropshipping model, the products quality is double-checked and customers can get ideal products, and in turn accumulating customers quickly for your store.


As both dropshipping and order fulfillment have their pros and cons, so what is the most suitable ecommerce fulfillment model should be analyzed on a case-by-case basis. And the specific influencing factors are mainly as follows: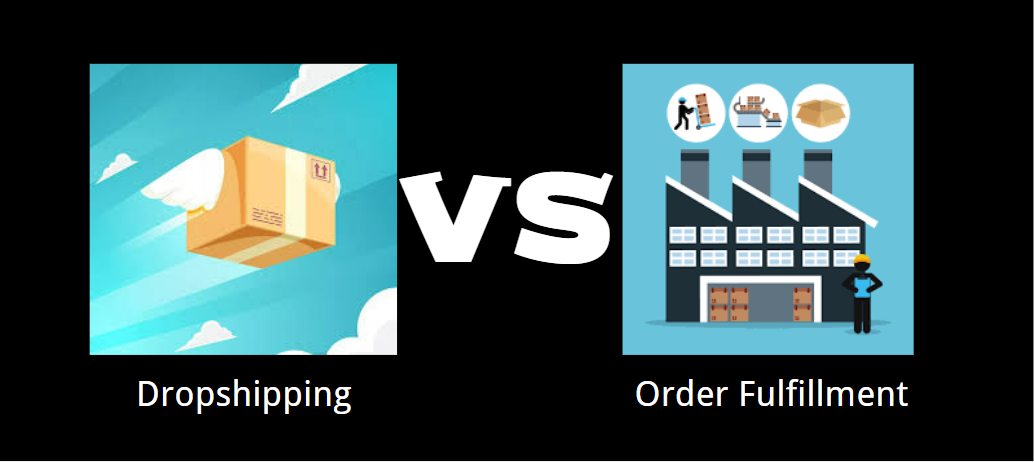 1.Order sizes
The biggest influencing factor of your fulfillment choice is your order size or business scale. If you have many orders every day, order fulfillment can be your suitable choice. Otherwise, you may feel crazy by dropshipping because you have to find suppliers with sufficient inventory to meet your order size. Once the inventory is insufficient, your orders will be delayed and your customer will be furious, and your business will be affected. However, if you choose an order fulfillment solution, you can rely on order fulfillment companies to fulfill your orders with their one-stop order fulfillment system, and you can save time to optimize your store.


2.Budget
If your capital is limited, dropshipping can be your suitable choice. Dropshipping enables you to deliver orders directly from your suppliers to customers, so you don't need to invest in warehousing, order management and shipping. You can start your business with minimal capital. If your budget is sufficient, you can choose one of the two ecommerce fulfillment models according to other benchmarks.


3.Products
If your products are special products or high-value products, your options of products and products suppliers will be limited. When there is an order generated in your store, you can not find relevant supplier quickly. As for this circumstance, order fulfillment is your best choice, you can store them ahead of time for use and keep them safe with robust warehousing management provided by your fulfillment company.


4.Technology
Ecommerce fulfillment need powerful back-end technology to process and ship orders, so order fulfillment usually has higher requirement for technology. Manufacturers and distributors are familiarized to filling large B-to-B orders, and they usually deliver large amount orders to a comparatively low number of commercial addresses. While direct-to-consumer eCommerce fulfillment is totally different, dropshipping is targeted to smaller orders that come in more frequently, often from multiple channels, and must be rapidly handled, filled and delivered to hundreds or thousands of customers.


5.Brand
If you are determined to develop a brand or already have your own brand, order fulfillment model is better. Order fulfillment can improve the reputation of you brand by providing custom packing solutions, inserting marketing cards and printing brand labels in your customers' parcels. In addition, as your brand awareness increases, order fulfillment can guarantee high delivery rate and high customers satisfaction to support your growing orders.


6.Store Rating
If your store rating is low, you should choose order fulfillment model to avoid getting more negative feedback. The order fulfillment model can ensure high delivery time and high delivery rate by providing custom packing and shipping solution and much free valued-added services, which will in turn reduce your return rate and complaint rate. If your customers are satisfied with the products, they will be happy to give you positive comments, and your store rating will be higher.


1.1 Have many good reviews
Good suppliers always have many customer reviews, you can see find your ideal suppliers by reading what people are saying about their products and customer service.


1.2 Have sound return policies
As the products are sent directly to your customers, so you'd better make clear their return policies about handling broken products, missing packages, returns, and more. If there are no relevant policies, you may get heavy losses.


1.3 Enable to try the products by yourself
If there is a test to dropship the products you decide to sell, you will know the product quality and delivery time. According to these data, you can provide better services to your customers. Here are some guides about dropshipping operation.


2.1 Have experienced and localized fulfillment center
● Good at handling all kinds of difficulties and emergencies
● store, pick pack and process in one place
● Double check your product quality from your supplier or in the warehouse


2.2 Have multichannel logistics solutions for option
● Fulfill your global orders range from all over the world, such as USA, Europe, Asia, North America, South America and...
● Improve your cost performance by custom a shipping solution with 10 ecommerce shipping best prastices



2.3 Have multi packing solutions for option
● Keep your parcels intact
● Reduce unnecessary packing fees
● Improve the value of your products




2.4 Have much free value-added services
● 1-1 professional customer manager services
● quality inspection
● print brand labels
● Automatic shipping notification by mail


If you find that your 3pl partner is eating into your profits or hurting your business growth, you may also need to consider switching to a 3pl partner

Above all, both of dropshipping and order fulfillment are suitable for particular business. I hope this article have helped you. For more suggestions, you can consult our customer manager, who will custom you a dropshipping fulfillment solution or order fulfillment solution from China.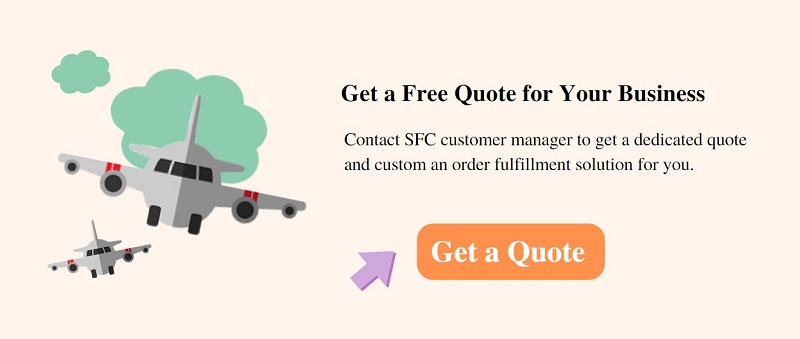 Post Views:
12186
Get a Custom China Fulfillment Solution with
FREE

Storage for

30 Days

Want to know about our services, fees or receive a custom quote?

Please fill out the form on the right and we will get back to you within a business day.

The more information you provide, the better our initial response will be.
Get a Custom China Fulfillment Solution with
FREE

Storage for

30 Days