6 Tips To Save Your Kickstarter Shipping Costs
Time: Jun 30,2022 Author: SFC Source: www.sendfromchina.com
Almost every crowdfunding campaigners is trying their best to find a cost-effective kickstarter shipping solution to save their kickstarter shipping costs. This is because kickstarter shipping fee generally occupies 10% -15% of their crowdfunding funds, and has their crowdfunding profits halved.
To help all campaigners save the kickstarter shipping costs, we will analyse the factors that affect the kickstarter shipping fee, and offer some kickstarter shipping advices for you to custom the best crowdfunding fulfillment solution. If you decide to start your campain, this article will help you.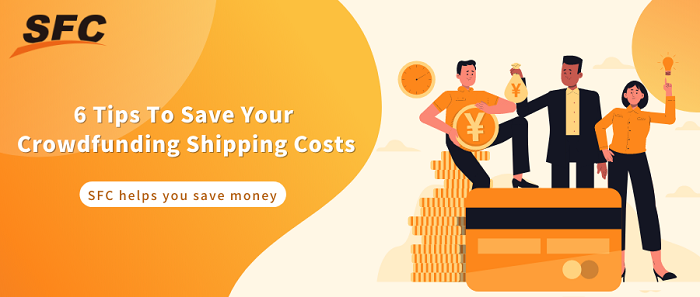 Content:
I. Factors That Affect Your Kickstarter Shipping Costs
II. How To Save Your Kickstarter Shipping Costs
III. How to Choose a Suitable Fulfillment Center to Perform Kickstarter Reward Fulfillment
IV. FAQ of SFC Kickstarter Shipping Fulfillment


Once your crowdfunding campaign is successfully launched on Kickstarter, you will touch on kickstarter rewards fulfillment. Whether you decide to fulfill the kickstarter rewards by yourself or a 3pl fulfillment center, I strongly recommend you to make clear the reasons that bring expensive shipping costs. Only in this way can you truly know how to save shipping costs and make a detailed plan in advance.
Here are five core factors that affect your final cost of shipping kickstarter rewards: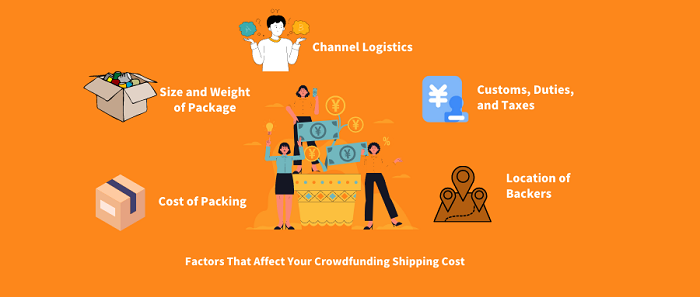 1. Size and Weight of Package
The shipping fee is determined by volume weight or real weight, and logistics companies commonly charge whichever is heavier.
"For example, shipping a computer from China to the USA naturally costs more than shipping a cell phone. This is because the dimensional weight and the real weight of the former is heavier than the latter."
As your package's weight, length, and width make significant in your shipping charges, you'd better make sure the package volume is as small as possible, and the dimensional weight as close to the real weight as possible to make your shipping costs more manageable.
2. Cost of Packing
To keep your kickstarter rewards intact after a long time of transportation, you must use some sort of packaging materials. Buying and using packaging materials such as mailbags, packing boxes, and fillers will increase your expenditure on the one hand, and add the volume weight of your product on the other hand, thus increasing your shipping fees. So, remember not to add unnecessary packing materials to increase your shipping costs.
3. Channel Logistics
Logistics covers the entire processing of retrieving, packaging, and shipping the rewards. It may be pretty demanding when you fulfill all of these by yourself, especially when your kickstarter backer number is large. So you'd better outsource it to a third-party logistics company to handle logistics.
4. Customs, Duties, and Taxes
Your backers will be irritated if they need to pay for custom tax to pick up the kickstarter rewards. From the backer side, they'd like get the rewards with no spends. So I highly recommend researching potential customs, duties, and taxes ahead of time to be fully prepared for any international shipping costs.
5. Location of Backers
The location of your backers is also an important factor. In general, the farther away your backer lives from where you fulfill rewards, the more expensive shipping will be. In order to make an accurate plan in advance, you'd better communicate with your backers to get their location and use an affordable shipping solution.
As the kickstarter shipping costs are affected by the above factors and they are all unfixed, research all possible fulfillment solutions, shipping combinations and their costs to various regions will help you avoid high shipping fees. For example, you can cut down on package weight and shipping costs by using different packing material.
Here are 6 tips to help you make cost-effective shipping combinations: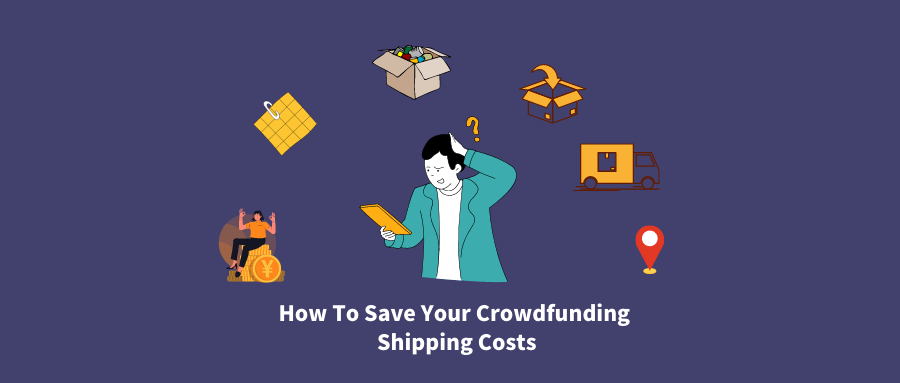 1. Refer to Previous or Successful Campaigns
Whether you're starting a crowdfunding campaign for the first time or not, learning from others in your field can help you save unnecessary costs. You can contact the campaigners directly via the Message feature on Kickstarter, Indiegogo and etc, and they are generally very happy to share how they managed such a great project and how they pleased their backers.
2. Use Free Packaging Material Whenever Possible
Manufacturers and suppliers usually provide free packaging boxes. If you don't need to do brand marketing, you can use the free packaging boxes they provide to save your packaging expenses. What's more, the more supporters you have, the more you will save on packaging.
3. Choose the Suitable Shipping Routes
When it comes to shipping, there are a variety of logistics options that vary in delivery time and price. In general, the faster the shipping time, the more expensive the shipping fees. However, we can neither blindly choose the fastest nor the cheapest since they will increase unnecessary expenditure or reduce the delivery rate. Instead, we should choose the most suitable logistics route on the basis of balancing the delivery time and shipping costs.
4. Keep Your Package Light and Small
Although packing may cost you a lot, you can still take measures to balance your needs and budget.
● Don't put too much stuffing into the package.
Fillers are usually put in to protect the product from damage and to prevent further losses. However, adding too much packing will make the package bulky, resulting in unnecessary freight.
● Use bubble bags instead of cartons whenever possible.
Bubble bag packaging usually leads to a lower package weight and solid weight.
● Do not choose a packing material that is too large.
A packaging that can accommodate the product and fillers is enough.
5. Apply for Export Tax Rebate
In the international trade business, China can refund or exempt from the value-added tax and consumption tax paid. Thus, you can apply for export tax rebate by submitting relevant documents to save your shipping costs. It's difficult for you to get tax rebate, but your fulfillment center in China can handle it easily.
6. Work with Fulfillment Centers
The easiest and quickest way to save your kickstarter shipping costs is to partner with a third-party fulfillment center, especially one that has experience in kickstarter fulfillment. Fulfillment centers are featured with rich order fulfillment experience, diversified logistics channels, quick customs clearance capability and so on, so you can rely on them for follow-up kickstarter rewards fulfillment at an affordable price and fully focus on crowdfunding campaigns.
As partner with a third-party fulfillment center is an efficient way for you to fulfill your kickstarter rewards, we (SFC service, one of the largest fulfillment center in China) integrate several issues that you are most concerned about and conclude the following benchmarks to help you choose a suitable kickstarter fulfillment center or kickstarter fulfillment company.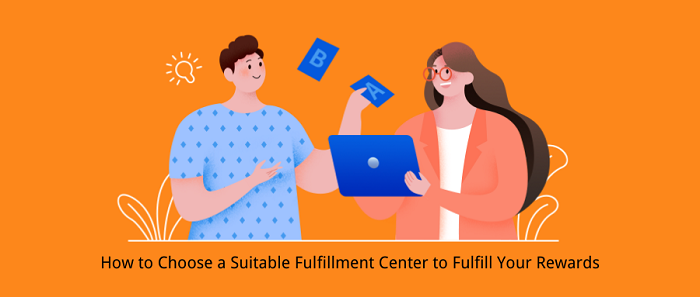 1. Has rich experience in kickstarter fulfillment.
Experience is your primary consideration in choosing your fulfillment center. Practice brings true knowledge. Fulfillment centers with rich kickstarter fulfillment experience can easily respond to diverse emergencies, and are capable of providing cost-effective fulfillment solutions according to customers' needs. SFC has more than 15 years of experience, and we have overcome numerous difficulties and challenges, thus almost all kind of fulfillment problems can be solved here.
To ensure there are no hidden fees in your shipping costs, and they are affordable, choosing a fulfillment center who supports real-time costs monitoring will relax you a lot. SFC charges the fulfillment and shipping fees pre-negotiated, and display every payment of you on your dashboard, so you can monitor the real-time costs and keep them under control.
3. Has Multiple logistics channels to ship worldwide
As your backers are from all over the world, it's best for your fulfillment center to have all channels you need to fulfill kickstarter rewards. If not, you need to work with multiple fulfillment centers, which will make things more tricky. SFC ships with over 60 logistics channels covering more than 220 countries and regions, so we can accept orders sent from China to worldwide.
4. Be able to track the real-time order status
Once your rewards are sent, your backers will look forward to receiving them. If your fulfillment center is capable of sending them the order track number for real-time order track, they will be delighted and in turn increase their trust in you. Work with SFC service, your backers can track their order status on the tracking page of our website.
5. Provide DDP & DDU Services to Avoid Tax Conflicts
Tax conflicts may irritate your backers and kill your crowdfunding campaigns, so you shall find a fulfillment center who can provide DDP service. SFC service can provide crowdfunding launchers with DDP and DDU services, so you need not worry about irritating backers.
6. Equip with a dedicated sales manager
You may have many questions about kickstarter rewards fulfillment, so if there is a professional manager to help you out, you will push your projects forward easily. SFC has a professional team, and we will arrange 1-1 professional customer manager to serve you through the whole cooperation.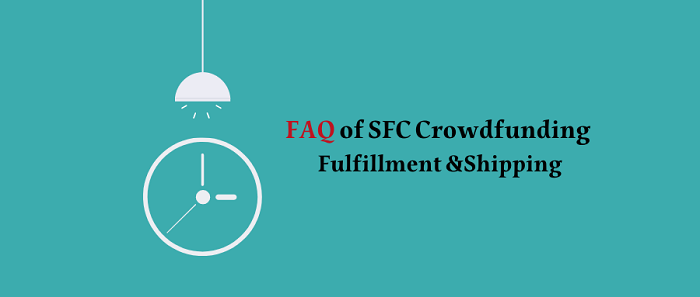 Q1:How does SFC ship my kickstarter rewards from China to USA? By sea or by air?
SFC can ship both by sea and air to meet your diversified shipping needs.
Q2:Would you be able to pick up the kickstarter rewards from my factory?
A: Cause we will do Quality Control including product condition and receiving quantity within SFC warehouse, it is recommended sending the goods from the factories to SFC directly. But there is extra cost if you need us to pick up the goods from your factory.
Q3:Will you charge shipping fee based on actual weight or volume weight?
A:It will base on the shipping channels you use. Shipping fee will charge by the actual weight when you use postal services. However, it would be charged by the larger one between the actual weight and volume weight if you use Express services and Dedicated Lines.
Q4:Is it possible to insert CARDS like THANK YOU card into the packages when you pack the orders?
A: Yes, you could have the setting of Add-on service by inserting THANK YOU card of your orders in your account, then we could base on your requirements to insert the cards.
Q5:Is it possible to return the parcels to China? Or resend to a new buyer address supported? If yes, how much does it cost?
A: It depends on the shipping channels. For most of the postal services, it's free of charge for returning to China, but the returning transit takes quite a long time; Regarding dedicated lines, resending to new address is available, and the charge will be based on the channels. For express service, if return occurs, it will return to sender at a high cost. Therefore it is suggested that customers should maintain a good communication with buyer if sending with express services.
Note: The extra cost for reship service is vary from shipping methods. Please contact your account manager for details.
To know more about SFC kickstarter shipping fulfillment services, you can read the article SendfromChina—Your Reliable Crowdfunding Order Fulfillment Partner.


You may also be interested in:

Post Views:
7797
Get a Custom China Fulfillment Solution with
FREE

Storage for

30 Days

Want to know about our services, fees or receive a custom quote?

Please fill out the form on the right and we will get back to you within a business day.

The more information you provide, the better our initial response will be.
Get a Custom China Fulfillment Solution with
FREE

Storage for

30 Days