Tips for Crowdfunding:How to Predict & Promote Crowdfunding Success?
Time: Sep 07,2022 Author: SFC Source: www.sendfromchina.com
Not all campaigns are successful, and neither are all crowdfunding campaigns. You'd better keep this in mind when you decide to reach crowdfunding campaigns. Have a look at the search result of "crowdfunding success rate" on Google, you will find that the average success rate of crowdfunding campaigns is a scant 22.4%. Perhaps a data-driven approach to campaign management can help us get those numbers up.
Here we will discuss the 4 campaign metrics that measure success in crowdfunding and propose 4 tips for you to propel a successful crowdfunding campaign.
Contents:
3) Marketing Conversion Rates (During Campaign)
4) Crowdfunding Fulfillment Quality

1) Choose a Suitable Crowdfunding Site
2) Use All Available Resources
3) Enrich Crowdfunding Marketing Channels
4) Work with Reliable Fulfillment Centers
As is said to all, "Only things are measured will they be improved." In crowdfunding, the benchmark tells you how near or far you are from achieving certain key goals, and prompts you to move on the right track. So you need to know the measurement of a successful crowdfunding campaign first before making the right prediction and thinking about how to achieve success.
A truly successful crowdfunding campaign isn't only about getting enough backers for the project, but about the whole processes of crowdfunding preparation, crowdfunding campaign initiation, crowdfunding promotion and crowdfunding reward fulfillment running smoothly and efficiently. You can predict a campaign's success from the below 4 metrics.
There are many crowdfunding sites, but the crowdfunding success rate varies. If a crowdfunding site gets more traffic and has sound marketing tools and systems, you may get crowdfunding success easier on this site. For example, the success rate of Kickstarter is generally higher than Gofoundme.
Each crowdfunding site also caters to a unique audience. Choose a site with goals that align with your own will help you find backers easily. For example, the success rate of launching a board game campaign on Kickstarter is generally higher than that of Indiegogo.
In a word, your choice of crowdfunding sites has a lot to go with your crowdfunding result.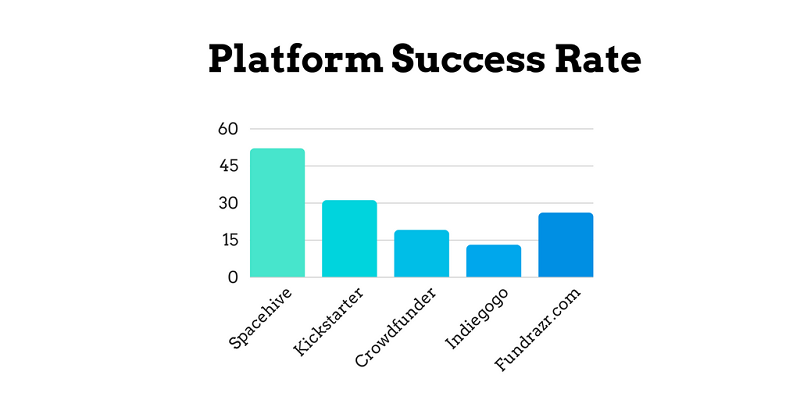 Getting enough crowdfunding backers for your campaign is the primary goal. Your friends, family members, colleagues and old acquaintances nearby you all can be prospective backers for your campaign. If you already have a certain volume of leads, you shall never put them aside. Maybe they will bring an explosive increase to your lead volume.
Once you start the crowdfunding campaign, some leads will be the first batch of supporters of your campaign, and help you promote the campaign. In this case, your project will quickly get more backers through word of mouth. In other words, lead generation is a precursor to a winning campaign.
To outreach the number of your backers, you can keep a list of potential backers for pre-launch e-mail marketing. The number of emails you need to send to reach your goals is:
Total number of emails = (Funding goal * 30%) / (Lead conversion rate * Product value)
Lead volume pre-launch is a good predictor of a winning campaign. The more leads, the better.
The marketing conversion rate refers to the percentage of prospects who transit to paying customers. High conversion rates indicate that your message is resonating with your audience. Low conversions indicate that your copy, whether on email, social, or your campaign page, needs to be optimized.
To improve your marketing conversion rate, you need to constantly tweak your copy to make it persuasive. Compare the total signups in a period to the total traffic from each channel. And divide total conversions by total channel traffic to find the conversion rate of each channel.
Marketing conversion rate is a good predictor of a winning campaign. Monitor the conversion rate during campaign will help you predict the trend of your crowdfunding campaign.
Crowfunding fulfillment is the last step of your campaign, and also the key to successful crowdfunding projects. Whether you can deliver the rewards correctly to backers within appointed time determines the ultimate success of your campaign.
After your crowdfunding projects are launched and succeed, you should immediately send rewards to your backers. If there are many backers complaints about rewards delay and rewards damaged, your crowdfunding campaign can not be called a success.
The crowdfunding fulfillment quality indicators the result of your campaign, and high-quality crowdfunding rewards fulfillment brings a happy end to your crowdfunding campaign.
Although the crowdfunding success rate is so low, you can also overcome it by grasping the tips for crowdfunding success!
As not all sites are created equal. It's important to choose a suitable crowdfunding site to launch your campaign. Here are some tips for you in choosing an online crowdfunding site: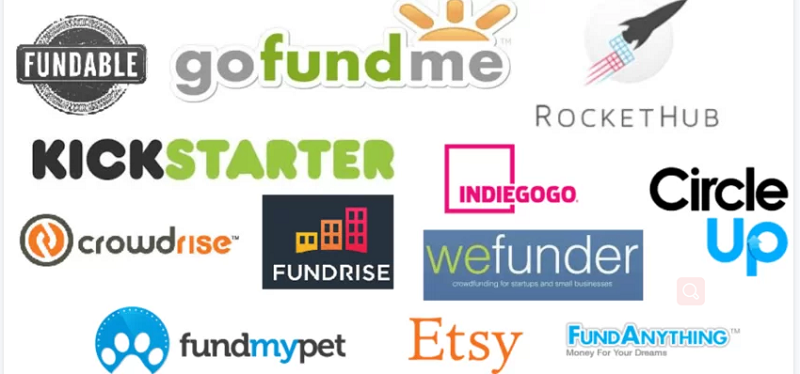 ● Choose a site with goals that align with your own. As we all know, there are four different types of crowdfunding: rewards, donation, debt and equity. Thus, when you're choosing a crowdfunding platform, it's important to choose a site whose type are consistent with your goal. What we mentioned here are rewards crowdfunding, so it's not sitable for you to choose Mightycause (a platform best for nonprofit).
● Choose a site with a large targeted audience. As different crowdfunding sites cater to different audiences, you need to choose a site that has more targeted audiences. For example, kickstarter and Backerkit are popular for board game crowdfunding campaigns, while Indiegogo is more fit for 3C crowdfunding campaigns.
● Choose crowdfunding sites with a higher success rate. Although Kickstarter has the highest number of completed projects (355,956), Spacehive has the highest campaign success rate at 42.4%. This is because Kickstarter is one of the oldest and largest crowdfunding sites, and fits all creators. You can choose the sites with the highest success rate from your preliminarily selected sites.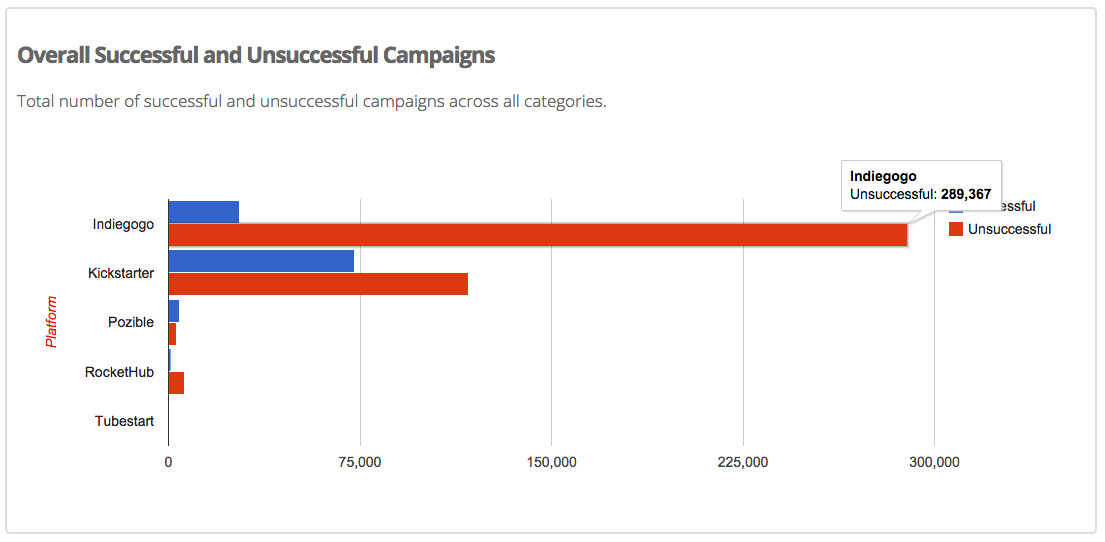 To improve your leads volume and get more backers, you should use all available resources to outreach your leads volume.
Consider launching one or two marketing campaigns among your existing leads pool. You can create a persuasive text to describe your campaign to be launched and send it to your list of potential backers via email marketing. If you're not good at writing, consider hiring a copywriter.
In addition, you can also beg the leads to promote your upcoming crowdfunding campaign among their friend circle by giving them discounts or coupons. If so, you can easily get more loyal backers.
You can only get a limited number of supporters from potential customers, and the traditional marketing channels can not get enough attention, so you need to enrich your marketing channels to reach your fundraising goal. The following are marketing channels that you can try:
● Social media group marketing: There are many crowdfunding groups on social media such as Facebook, and most groups allow crowdfunding creators to promote their upcoming campaigns and ongoing campaigns. You can join some crowdfunding marketing groups and promote your campaign for free by editing persuasive introduction and posting campaign links.
● Social media advertising: If you want to generate more audience and speed up your crowdfunding marketing, you can pay for ads on social media channels such as Facebook. Facebook allows a particular audience targeting, so you can provide compelling messages in front of the people who will be interested in your crowdfunding campaign.
● Guest Blogging: Guest blogging is a great match for crowdfunding marketing strategy. You just need to post content on websites that generate high traffic and are relevant to your product. As a bonus, it's a good medium in establishing your credibility before launching a campaign. Most important of all, it is efficient and free.
● Advertising on Youtube: Crowdfunding and Youtube advertising is a powerful duo in any marketing campaign. As people visit Youtube to entertain themselves, you need to make sure your ad fits the taste of the audience and the website as well while conveying your message and inviting these people to take a single action.
● Provide product demos: Usability is everything. People will enjoy it more if they can hold something out of your video ads. If your product is software or an app, provide product demos.
As you know, crowdfunding fulfillment involves picking, packing, labeling and shipping to end customers, which means an overwhelming solution for you and will consume your time should be on more important things—product development and finance, etc. So it is important to work with a reliable crowdfunding order fulfillment partner.
For example, SFC, founded in 2007, is a one-stop order fulfillment center in China. SFC provides QA inspect, warehousing, picking and packing, kitting & assembly and the best end-to-end global logistics services for worldwide crowdfunding creators.
Aavantages:
1. Rich channels: postal (cheap), express (fast), special line (advantage)
2. Free 30 days warehouse rent
3. Customized packaging + consumables solutions
4. Total quotation of the project
5. No IOSS can be sent (DDP scheme)
6. 1-1 account manager, 24H Response
7. Multiple free value-added services
8. Send tracking info email to recepients automatically
9. Separate customs declaration: tax refund
10. API Integration with main platforms such as Amazon, ebay, ae and Shopify...
You can click the below button to get custom fulfillment solutions and ask for a quote from SFC.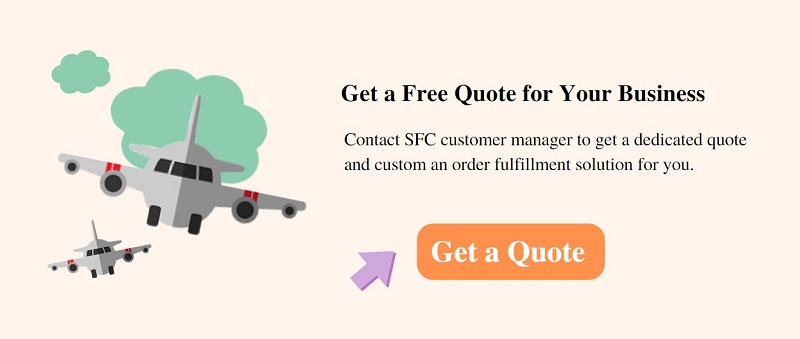 If you can put the above four tips for crowdfunding success into practice, your campaign is sure to be a success.
You may also be interested in:
1. SendfromChina—Your Reliable Crowdfunding Order Fulfillment Partner in China
2. 5 Must-Read Tips for Your Kickstarter & Indiegogo Crowdfunding Campaign.
3. How to Perform Crowdfunding Fulfillment at Least Cost

Post Views:
696
Get a Custom China Fulfillment Solution with
FREE

Storage for

30 Days

Want to know about our services, fees or receive a custom quote?

Please fill out the form on the right and we will get back to you within a business day.

The more information you provide, the better our initial response will be.
Get a Custom China Fulfillment Solution with
FREE

Storage for

30 Days